Moringa Oleifera and Turmeric root are both known for their nutritional and medicinal qualities. Now, these two superfoods have been combined to create a much more effective and powerful product. Together, these two provide double the anti-inflammatory and antioxidant benefits than just one ingredient on its own.


Each serving contains:
Organic Turmeric Root – 1,100 mg
Turmeric Root Extract – 200 mg
Organic Moringa Leaf Powder – 150 mg
Organic Black Pepper – 30 mg
Black Pepper Extract – 10 mg
Turmeric Curcumin
The medicinal benefits of curcumin, the active ingredient in turmeric, have been carefully documented. Scientists have extensively researched this compound and demonstrated its benefits for:
Chronic and acute inflammation
Cardiovascular system health
Brain function
The ancient Indian holistic medical system of Ayurveda has used turmeric as a medicinal herb and therapeutic remedy for millennia. It's been used to combat serious ailments like heart disease, Alzheimer's and cancer. It is also an important ingredient in Southeast Asian cooking and contains several essential vitamins and nutrients including:
Vitamin C
Vitamins B-1, B-2, B-3
Calcium
Manganese
Phosphorous
Potassium
Zinc
Phytonutrients
Moringa Oleifera
A native of the Indian subcontinent, the leaf of the Moringa tree has been an important source of nutrition and medicine for centuries. Its health benefits are legendary — so rich in nutrients that it is often called the "Miracle Tree." The powder from the leaf of this plant contains 92 nutrients, 46 different antioxidants, 18 amino acids, vitamins, and minerals. It is rich in:
Calcium
Vitamin A
Vitamin C
Vitamin B6
Beta carotene
Iron
Magnesium
Zinc
Phosphorus
Riboflavin
Potassium
Protein
Beyond its nutritional benefits, Moringa also has therapeutic uses. The leaves of the plant have been used to help treat:
Hyperglycemia
Asthma
Flu
Acid reflux
Heart burn
Bronchitis
Skin diseases
Hypertension
Moringa can also help control cholesterol and induce lactation in breastfeeding mothers. Its anti-inflammatory and anti-oxidant qualities are known to relieve joint pain and improve cardiovascular health. It reduces free radicals and contains isothiocyanates that are known for their anti-carcinogenic activity, helping to prevent cancer.
Organic Black Pepper
Black pepper on its own has many medicinal and therapeutic uses. But in this formulation, it acts as a catalytic agent for curcumin. Black pepper contains the compound piperine, which improves the body's absorption of curcumin by almost 20 times. When combined with curcumin, black pepper helps to reduce inflammation and improves digestion.
The benefits of Moringa and Turmeric capsules
When these two superfoods are combined with black pepper, they create a balanced nutritional formula for good health. Both curcumin and Moringa have traditionally been used for relaxation and may help in relieving symptoms of anxiety, stress and tension — and provide especially excellent health benefits for older people. This dietary supplement can also:
Help control chronic inflammation.
Help keep the brain and the cardiovascular system healthy.
Slow down age-related cognitive degeneration.
Improve health for diabetic patients
Boost the immune system with flavonoids and antioxidants.
Relieve soreness.
Soothe joint and muscle pain, relieving symptoms of arthritis.
Control blood pressure and cholesterol levels.
Help to relieve asthma and bronchitis symptoms.
How to use:
To get the full benefits
Take 3 x 400mg capsules daily with food and water. (30 Days)
Take 2 x 750mg capsules daily with food and water. (60 Days)

You may see energy and health improvements in only one month.
Organic and natural food supplement
Our Moringa and turmeric capsules are made from raw dried Organic Moringa leaves and Organic turmeric roots. Both are sourced from farms that practice sustainable organic farming. All our ingredients are 100% natural and organic, presented in capsule form with vegan casing. Each bottle contains 120 capsules of 400 mg each.
 - FAST FREE SHIPPING IN UNITED STATES
Key Features:
Non-GMO
Third-Party tested for purity & potency
Gluten-free
Not tested on animals
Vegan
Raw
No artificial ingredients
Single-sourced
Organic
Disclaimer: The above statements have not been evaluated by the FDA. This product is not intended to diagnose, treat, prevent or cure disease or illness
Customer Reviews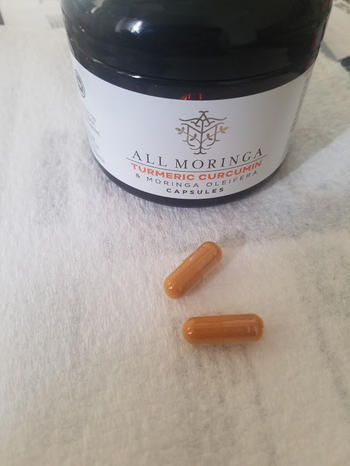 05/20/2021
I recommend this product
Pretty awesome
I am loving all of the products that I've received from All Moringa and they are all winners as far as I'm concerned. The only reason why I gave these capsules 4 stars instead of 5 is because they seem to cause heartburn, just a little bit. I noticed that I didn't seem to experience that with the original capsules. But still, other than that minor fact, I'm quite happy with this product. Since taking these capsules I am noticing that I feel less hungry, with fewer cravings and I seem to have much more energy. My skin seems softer too and less dried out. I'm definitely happy with everything I've purchased so far! Keep up the good work!
Anne L.

United States
Thank you so much for your feedback and we are so glad to hear you love all the products! Some people are more sensitive to the Moringa leaves than others. You might want to try taking the capsules along with meals, that should do the trick. Please let us know if that helps!
05/14/2022
I recommend this product
Excellent Product
I can definitely tell a difference in my quality of life, my legs don't ache as much and I have more energy while just plain feeling better!
Anonymous

United States
Thank you for sharing, cheers to your health!
04/21/2022
I recommend this product
Working!
Feeling great in just a few weeks of using this supplement.
Anonymous

United States
02/23/2022
I recommend this product
Very good so far have seen some weight loss. Within a month and skin is great
Lisa M.

United States
10/07/2021
I recommend this product
very helpful
After about 10 days, my level of inflammation began to lessen.
Anonymous

United States